The bed has been tubbed to accommodate those large rear tires with a Harwood fuel cell and mini Jerry can. It's been finished with a roll pan for the rear bumper with Chevy logos as taillights.
The interior is complete with loop roll carpet and diamond plate trim with Lokar finishes. The gauge cluster includes Autometer liquid filled gauges and complemented by a B & M pro shifter. From the world of hot rodding, sectioned, narrowed, and tubbed are terms that spell custom! This '55 has them all.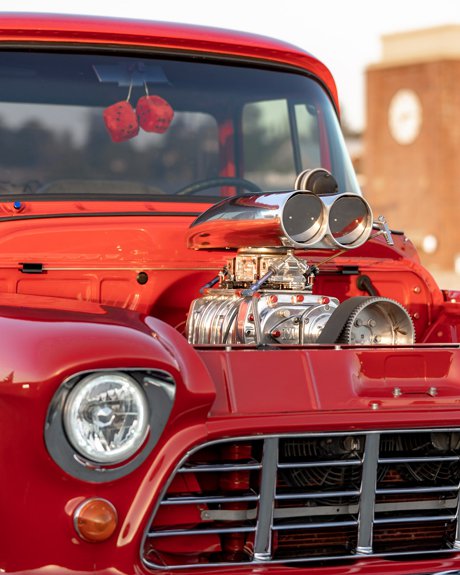 Let's talk about the heart and soul of this truck, that engine! It started life as a time trail motor built to NASCAR 10,000 RPM standards for the Daytona Circuit driver Bill Schmitt. This engine has been bored out and blueprinted through it's life.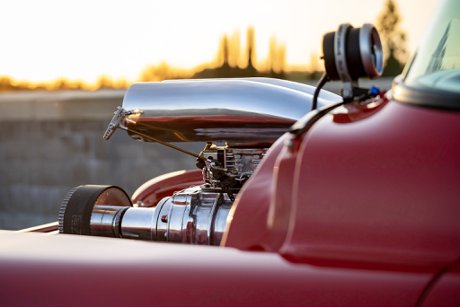 From there it was under driven from 12:1 compression, then added a 471 Mooneyham blower to underdriven the engine to make it more street-able. It includes dome pistons, Duntov Cams, Camel Hump Heads, Doug Thorley headers, MSD 6AL system, custom bent Flowmaster, custom racing oil pan, the custom valve covers are from Little John's Stuff and cover gold crane rock a rollers. It's topped off with the 4-71 Mooneyham blower and a Holley 850 carb. A B&M holeshot 3000 stall converter it connect to the TH400 transmission to supply power to the back wheels for some true giddy up and GO!
This engine is built like a Sherman tank! To answer the big question, it gets about 7-8 MPG.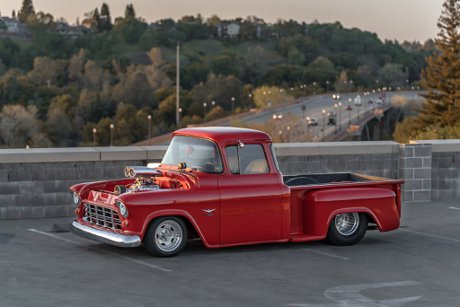 This truck is a breeze to drive with power steering, power brakes, an upgraded Kenwood digital media stereo with 2 amps and a 8" subwoofer. It's a well designed, street and track worthy truck!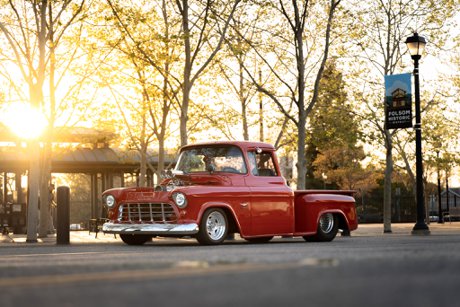 For some of the final touches, it has a Viper alarm with GPS tracking, door actuators, an air horn and interior and exterior LED lighting. This '55 Pro Street Chevy rides remarkably smooth, straight and hooks up great when A LITTLE FUN is needed!